Research article

Open Access

Open Peer Review
This article has Open Peer Review reports available.
Use of Floseal®, a human gelatine-thrombin matrix sealant, in surgery: a systematic review
Received: 2 April 2014
Accepted: 16 December 2014
Published: 20 December 2014
Abstract
Background
Surgical bleeding can be associated with an increased risk of morbidity and mortality across all surgical areas. Thus, numerous products have been developed to achieve haemostasis. A flowable haemostatic matrix such as Floseal® can quickly and reliably stop bleeding across the full spectrum of bleeding scenarios. The aim of this study was to systematically review clinical and economic evidence regarding the use of Floseal® in surgical procedures.
Methods
An extensive literature search was conducted in PubMed, EMBASE, and the Cochrane Library over the period spanning 2003–2013 to identify publications related to Floseal® use in all types of surgical procedures. Case reports and case series studies were excluded.
Results
A total of 27 papers met the selection criteria and were analysed. In the studies, blood loss and the time to achieve haemostasis were the most reported outcomes used to assess the efficacy of Floseal®. The majority of published studies (64%) examined the use of Floseal® compared with conventional methods (such as electrocautery or suturing). The remaining 36% of the studies evaluated the use of Floseal® compared with other haemostatic agents, such as Surgicel®, Gelfoam®, and Hemostase®. FloSeal® has been demonstrated to be an efficacious method in surgical procedures to reduce the time to achieve haemostasis, the frequency of intra- and postoperative bleeding, and the length of hospital stay, among other primary outcomes, resulting in less consumption of health resources.
Conclusions
The majority of the selected studies confirmed that Floseal® showed improvements over other haemostatic agents in achieving haemostasis and reducing blood loss.
Keywords
Gelatin-thrombin-matrix sealantSurgeryFlosealSystematic reviewOutcome
Background
Surgery procedures, independently of the type, usually follow a common approach. The major surgical steps are incision, dissection, exposure, resection, haemostasis, restoring anatomy and closure. Among the procedures, only anatomy differs, but the challenges are always the same. The typical surgical challenges are bleeding, healing complications, leakage and adhesion formation. Improperly addressing of these challenges, could impact on patient outcome such as haemorrhagic shock, blood replacement, longer hospital stay in case of bleeding.
Surgical bleeding, concretely, can be associated with an increased risk of morbidity and mortality across all surgical areas. In particular, bleeding complications arise in nearly 30% of surgeries[1].
Excessive bleeding complicates surgery and often leads to longer hospital stays, increased healthcare service utilisation, and higher healthcare costs, among other negative consequences[1].
The length of hospital stay is approximately 2–2.5 times longer for patients who require blood transfusion[2]. Efforts to control surgical bleeding and the use of blood transfusions are thus needed to reduce healthcare consumption and costs.
The most frequent methods typically used to achieve haemostasis were pressure (dressings) and sutures, but also numerous products have been developed to achieve the same aim by different ways, such as topical haemostatic agents (HA) (e.g., sponges), thrombin, gelatine-thrombin, fibrin glue, and other types of surgical sealants[3].
Although there is no consensus on how to best approach haemostasis, the number of options available to the surgeon continues to grow. Several factors are important when evaluating the quality of HAs and devices, but the most important are the ability of a product to achieve and maintain haemostasis and the speed with which bleeding is controlled[4].
Conventional methods for control bleeding are for example electrocautery, suturing, manual compression or ligatures, among others. Additionally, a broad variety of haemostatic agents such as vegetal-origin (Surgicel®, Tabotamp®, Hemostase®), fibrin sealants such as Tachosil® or Tisseel®, different sponge products such as only composed of gelatine (Gelfoam®), or more specific techniques like polyvinyl alcohol sponge (Merocel®) and Infrared-sapphire coagulation which consist on light is converted into thermal energy thus causing coagulation and haemostasis, have been developed in the last decades.
Gelatine-thrombin matrix sealants are commonly used intra-operatively acting at the end stage of the coagulation cascade to facilitate fibrin formation, promoting coagulation and minimising blood loss. These agents are a mixture of a flowable gelatine matrix (bovine or porcine) and a human-derived thrombin component. For example, Floseal® (Baxter Healthcare Corporation Fremont, CA 94555, USA) and Surgiflo® (Ethicon Endo-Surgery, part of Johnson & Johnson Company, New Jersey 08876, USA) are composed of a bovine gelatine matrix and a porcine gelatine matrix respectively, and are typically prepared immediately before use and directly injected into the site of bleeding.
Floseal® is indicated in surgical procedures as an adjunct to haemostasis when control of bleeding, ranging from oozing to spurting, by ligature or conventional procedures is ineffective or impractical.
The aim of the present study was to systematically review the clinical and economic literature regarding Floseal® use in any type of surgical procedure.
Methods
Searching
PRISMA recommendations were followed using PRISMA checklist recorded on Additional file1. An extensive systematic literature search was performed in MEDLINE using PubMed, in EMBASE using OVID, and in the Cochrane Library. English-language articles published during the last decade (from 1 January 2003 to 31 August 2013) were identified. The search targeted published studies presenting any clinical and/or economic type of evaluation of Floseal® use during surgical procedures and in which Floseal® was compared with at least one alternative. A secondary search among the citations of the articles retrieved in the initial search was performed to ensure that all relevant studies were included.
Selection
The titles and abstracts of the studies identified by the search strategy were assessed for potential eligibility and were subsequently retained if they met the following inclusion criteria: (a) reporting clinical and/or economic outcomes, (b) describing any surgical approach, (c) including treatment with Floseal® in comparison with conventional methods or with other HAs, and (d) written in either English or Spanish.
Abstract and poster publications were only considered if they were published within the past two years, as information about ongoing studies may be available as partially published research, such as conference abstracts[5]. In contrast, case series and case reports were excluded from the review.
Interventions
Studies investigating surgical interventions using Floseal® were included. Both laparoscopic and open surgeries were considered, and no surgical procedures were excluded, including investigations of Floseal® use for epistaxis. The studies were then separately assessed based on surgery type.
Search strategy
Details of the searches performed in MEDLINE and EMBASE are shown in Tables
1
and
2
, respectively. The Cochrane Library was explored by entering 'Floseal' in the title, abstract, or keyword field.
Table 1
Search strategy for the PubMed database
| | TERM | SEARCH DETAILS (24 September 2013) | NUMBER OF ARTICLES |
| --- | --- | --- | --- |
| 1 | Surgery | ((((surgical procedures, operative [MeSH Terms]) OR general surgery [MeSH Terms]) OR surgery [Subheading]) OR Thoracic surgery [MeSH terms]) OR colorectal surgery [MeSH Terms] | 2,885,426 |
| 2 | Thrombin | (((thrombin [MeSH Terms]) OR thrombin [All Fields]) OR factor viiia [MeSH Terms]) OR factor viiia [A-ll Fields] | 43,985 |
| 3 | Matrix | ((matrix bands [All Fields]) OR Matrix Metalloproteinases, Membrane-Associated [MeSH]) OR Hemostatic Matrix | 8,096 |
| 4 | Gelatin | ((((((gelatin [MeSH Terms]) OR gelatin [Text Word]) OR gelatin sponge, absorbable [MeSH Terms]) OR gelatin sponge, absorbable [All Fields]) OR surgical sponges [MeSH Terms]) OR (surgical [All Fields] AND sponges [All Fields])) OR surgical sponges [All Fields] | 22,894 |
| 5 | Final fibrin | Fibrin [MeSH] OR fibrinogen [MeSH] | 45,657 |
| 6 | Sealant | Sealant [All Fields] | 3,328 |
| 7 | Floseal | Floseal [All Fields] | 155 |
| 8 | Humans | Humans [MeSH Terms] NOT animals [MeSH Terms:noexp] | 11,498,554 |
| 9 | Language | (english [lang]) OR Spanish[lang] | 18,978,494 |
| 10 | | Matrix and thrombin | 780 |
| 11 | | Matrix and gelatin | 654 |
| 12 | | Matrix and sealant | 109 |
| 13 | Product Matrix | #10 OR #11 OR #12 | 1,370 |
| 14 | | Thrombin and matrix | 780 |
| 15 | | Thrombin and gelatin | 353 |
| 16 | | Thrombin and sealant | 332 |
| 17 | Product Thrombin | #14 OR #15 OR #16 | 1,294 |
| 18 | Product | #13 OR #17 | 1,884 |
| 19 | Product w/o fibrin | #18 NOT final fibrin | 1,372 |
| 20 | Final Product | #19 OR Floseal | 1,403 |
| 21 | Final 24Sep2013 | 20 AND Surgery AND Humans AND Language | 176 |
| 22 | Final 24Sep2013 w/o CR | #21 NOT "case reports"[Publication Type] | 140 |
| 23 | Final with dates | #22 ("2003/01/01"[PDAT]: "2013/08/31"[PDAT]) | 109 |
Table 2
Search strategy for the EMBASE database
| | SEARCH DETAILS (24 September 2013) | NUMBER OF ARTICLES |
| --- | --- | --- |
| 1 | exp surgery/ or exp colorectal surgery/ or exp general surgery/ or exp thorax surgery/ | 3,293,277 |
| 2 | su.fs. | 1,732,981 |
| 3 | 1 or 2 | 3,766,104 |
| 4 | exp thrombin/ | 35,438 |
| 5 | Thrombin.mp. | 61,009 |
| 6 | Factor viiia.mp. or exp blood clotting factor 8a/ | 912 |
| 7 | 4 or 5 or 6 | 61,516 |
| 8 | Matrix bands.mp. | 42 |
| 9 | exp matrix metalloproteinase/ | 17,584 |
| 10 | Hemostatic matrix.mp. | 51 |
| 11 | 8 or 9 or 10 | 17,677 |
| 12 | Gelatin.mp. or gelatin sponge/ or exp gelatin/ | 27,702 |
| 13 | Gelatin sponge.mp. | 2,463 |
| 14 | Surgical sponges.mp. or exp surgical sponge/ | 953 |
| 15 | (Surgical and sponges).mp. [mp = title, abstract, subject headings, heading word, drug trade name, original title, device manufacturer, drug manufacturer, device trade name, keyword] | 600 |
| 16 | 12 or 13 or 14 or 15 | 28,917 |
| 17 | exp fibrin/ | 18,545 |
| 18 | exp fibrinogen/ | 46,855 |
| 19 | 17 or 18 | 60,613 |
| 20 | sealant.mp. | 6,172 |
| 21 | floseal.mp. | 375 |
| 22 | exp human/ | 14,968,402 |
| 23 | animal/ | 1,888,844 |
| 24 | 22 not 23 | 14,485,903 |
| 25 | 7 and 11 | 216 |
| 26 | 11 and 16 | 1,096 |
| 27 | 11 and 20 | 15 |
| 28 | 25 or 26 or 27 | 1,290 |
| 29 | 7 and 16 | 465 |
| 30 | 7 and 20 | 493 |
| 31 | 25 or 29 or 30 | 1,044 |
| 32 | 28 or 31 | 2,118 |
| 33 | 32 not 19 | 1,745 |
| 34 | 21 or 33 | 2,010 |
| 35 | 3 and 24 and 34 | 569 |
| 36 | Limit 35 to (english or spanish) | 540 |
| 37 | exp case report/ | 1,986,006 |
| 38 | 36 not 37 | 460 |
| 39 | Limit 38 to yr = "2003 - 2012" | 385 |
Data extraction
Two reviewers screened the references based on the defined inclusion criteria and extracted the data. The data were collected by one author (ME) and checked by a second author (IO), and all disagreements were resolved through discussion.
Results
A total of 525 potential publications from the last decade (2003–2013) were identified by the search (109 using MEDLINE, 385 using EMBASE, and 31 using the Cochrane Library). Among the 525 references, 126 were duplicates (24%) and were subsequently excluded. Additionally, 372 publications were excluded for the following main reasons: studies comparing surgical procedures or examining products other than Floseal
®
, case reports, and in vitro and animal studies. Figure
1
shows the flowchart of the selection process, indicating the potentially relevant studies identified, the studies retrieved for more detailed evaluation, the included studies, and the excluded studies[
6
–
32
].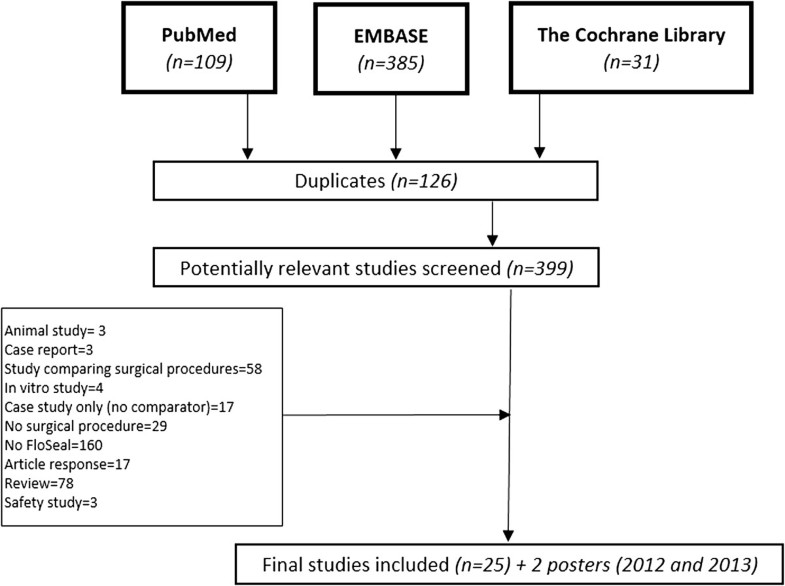 Discussion
To our knowledge, this is the first systematic review examining all clinical and economic studies on Floseal® use in all surgery types.
In order to avoid exclusion of studies related to sealants consisting of gelatine and matrix components it was important not to restrict the search strategy too much. The large number of articles identified in our literature review could signify the relevance of research in the field of surgical sealants.
It is important to mention that Floseal® has been evaluated in a wide variety of studies that had to be excluded from this review due to the inclusion criteria. Of the studies collected, nearly 40% of the studies were discarded. 58 studies were excluded because they included Floseal® application in their surgical protocols but were designed to evaluate different surgical techniques, such as open or laparoscopic surgery but not to specifically evaluate the effectiveness of Floseal®.
Some limitations can be taken into account concerning this review. Some of them common to any other systematic reviews, were inherent to the methodology used. During the present review we faced the difficulty to determine all of the ways of describing Floseal® (such as a glue or matrix, among others), and therefore, certain studies may have been missed despite our best efforts.
However, this risk should be minimal because of the large number of articles that were initially found.
Due to the scarce publications existing in specific surgical interventions such as lacrimal, thyroid, orthopedic and gynecological surgery, and the small patient sample size of them, any interpretation and/or extrapolation of the results should be precautionary done.
Additionally, a few studies that evaluated the efficacy of Floseal® were not identified during the initial literature search due to restriction of the publication dates established in this research. However, during the secondary search among the citations of the articles retrieved in the primary search, it was observed that three studies were mentioned in many of the reviewed articles. These three important studies evaluated the role of Floseal® in ESS, transsphenoidal pituitary surgery, and cardiac surgery[33–35] and concluded that Floseal® use provided statistically significantly better results in terms of control of postoperative bleeding and the time to achieve haemostasis than did the comparators evaluated (cases study[33], standard of care[34] and Gelfoam®[35]).
This review reflects the difficulty of comparing results because all 27 finally identified studies revealed a wide variety of surgery types (cardiac surgery, ESS, LPN, and adenoidectomy), and comparators (electrocautery, conventional methods, and other HAs). Additionally among same surgical procedure, also study designs (prospective, randomised clinical trials, cases and controls, retrospective chart reviews, and case studies) were varied and primary and secondary endpoints (the time to achieve haemostasis, blood loss, patient comfort after surgery, and pain control), so it implied and extra difficulty to compare results obtained in this research".
Just only one study included in this review, evaluated the economic value of Floseal®[8], concretely in cardiac surgery. Regarding thyroid surgery, the authors suggested that the costs associated with Floseal® therapy are likely to be offset by a shorter postoperative stay and reduced time in the operating theatre[22]. The clinical benefits provided by Floseal®, in the majority of cases mentioned here, would probably yield to efficient healthcare resource use and lead to cost savings. However, this cannot be extrapolated if economic evaluations are not performed.
Additionally, fifteen studies evaluated the role of Floseal® in different surgery types, but these studies were excluded because no comparator was included. The majority of these studies (53%) were evaluations of urologic procedures, and the authors concluded that Floseal® rapidly controlled strong bleeding without suturing, which is highly advantageous to avoid the complicated technique required for suturing small bleeding vessels[36–41].
Significantly better results for Floseal® were also identified in 18 of 26 studies (69.23%), and in the majority of the remaining studies, Floseal® was found not to be inferior to the comparator in terms of effectiveness. An increasing number of studies have confirmed the effectiveness of Floseal® in achieving haemostasis and reducing blood loss in patients undergoing surgical procedures. Reduction of both intra- and postoperative blood loss would reduce the need for blood transfusions and the LOS, and thus greatly reduce costs.
Fifteen of the 26 clinical evaluations considered in this review (with the exception of an economic study[8]) included 50 patients or more, and 12 of the studies had sample sizes of less than 50 patients. Considering the studies with <50 patients, 66.6% (8) of the results obtained were not significantly better for Floseal®, and the remaining 33.4% (4) were significantly better. However, 86.6% (13 of 15) of the studies with sample sizes of ≥50 patients obtained significantly better results for Floseal® compared with alternative treatment. Another way to classify the selected studies is by study design: nearly 60% (16) of the 26 included clinical evaluations were prospective, randomised clinical trials, and 26% (7) were case–control studies. Additionally, 14% (3) of the clinical evaluations were retrospective chart reviews.
Conclusion
Floseal® has been demonstrated to be an efficacious alternative method in surgical procedures to obtain a complete and stable haemostasis and also in terms of reducing the time to achieve it, intra- and postoperative bleeding, and the length of hospital stay, among other primary outcomes, resulting in less consumption of health resources. Reduction in healthcare resource use seems to be associated with a decrease in patient management costs; thus, the use of Floseal® might even yield cost savings.
In any case, economic evaluations could be interesting to assess the resource consumption associated to Floseal® utilization. The development of further studies at local level should be performed to confirm that the costs of using Floseal® would be balanced by a reduction in the use of health resources.
Declarations
Acknowledgements
We are indebted to Juan Pablo Garcia, Pascaline Faivre and Eriz Kuntze (Baxter) for their critical review of the manuscript. Also authors acknowledge to the BMC surgery reviewers the helpfully comments provided during review process.
Authors' Affiliations
(1)
Pharmacoeconomics & Outcomes Research Iberia, Pozuelo de Alarcón Madrid, Spain
Copyright
© Echave et al.; licensee BioMed Central. 2014
This article is published under license to BioMed Central Ltd. This is an Open Access article distributed under the terms of the Creative Commons Attribution License (http://creativecommons.org/licenses/by/4.0), which permits unrestricted use, distribution, and reproduction in any medium, provided the original work is properly credited. The Creative Commons Public Domain Dedication waiver (http://creativecommons.org/publicdomain/zero/1.0/) applies to the data made available in this article, unless otherwise stated.